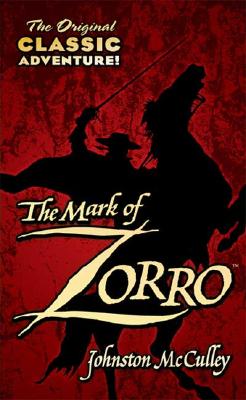 Stock Image
Author Name McCulley,Johnston
Title Mark of Zorro
Binding Mass Market Paperback
Book Condition Used - Good
Publisher Tor Books 1998/05/01 00:00:00.000
ISBN Number 0812540077 / 9780812540079
Seller ID 243333
McCulley,Johnston Mark Of Zorro 'Cover,edge and corner wear.' All Orders Shipped With Tracking And Delivery Confirmation Numbers.
More Description
Old California, in a bygone era of sprawling haciendas and haughty caballeros, suffers beneath the whip-lash of oppression. Missions are pillaged, native peasants are abused, and innocent men and women are persecuted by the corrupt governor and his army.
But a champion of freedom rides the highways. His identity hidden behind a mask, the laughing outlaw Zorro defies the tyrant's might. A deadly marksman and a demon swordsman, his flashing blade leaves behind . . .
Fist published in 1919, The Mark of Zorro has inspired countless films and television adventures. Now read how the legend began . . .

Price = 3.00 USD