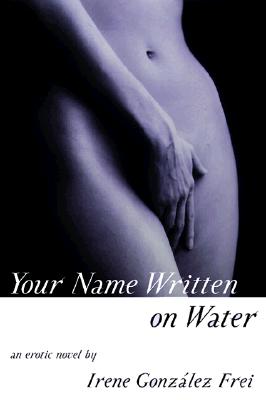 Stock Image
Author Name Frei,Irene G.
Title Your Name Written on Water : An Erotic Novel
Binding Trade Paperback
Book Condition Used - Good
Publisher Pub Group West October 1999
ISBN Number 0802136486 / 9780802136480
Seller ID 243679
Frei,Irene G. Your Name Written On Water: An Erotic Novel Has edge and cover eear from use and the shelf. All Orders Shipped With Tracking And Delivery Confirmation Numbers.
More Description
Your Name Written on Water, winner of an international contest for erotic literature in Spanish and a bestseller in Spain, is a startling and charged exploration of desire and narcissism that reads like Carole Maso's Aureole with a twist of The Story of O.
Sofia works in a gallery in Madrid, the young wife of an architect whose love for her has hardened into a passionate and destructive resentment. Her life is transformed when one afternoon, by chance, she spends her lunch hour at a public pool outside the city. There she meets Marina, a woman who is her doppelganger. They are immediately drawn together -- so powerfully that Sofia feels it all may be a trick of her fevered mind -- and together they forge a love that is tender as well as passionate, with an intimacy that is almost eerie. When Sofia learns Marina is leaving for a job in Rome, she sees the perfect exit from a marriage that has become tyranny. And so they go, twin fugitives after desire -- but pursued as well by the specter of danger. Your Name Written on Water is a stunningly accomplished and deeply psychological novel with the charge of an erotic thriller.
Price = 6.25 USD