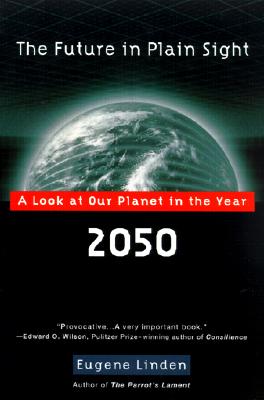 Stock Image
Author Name Linden,Eugene
Title The Future in Plain Sight: The Rise of the 'True Believers' and Other Clues to the Coming Instability
Binding Trade Paperback
Book Condition Used - Good
Publisher Plume 2002/01/29 00:00:00.000
ISBN Number 0452282993 / 9780452282995
Seller ID 297087
Linden,Eugene Future In Plain Sight: A Look At Our Planet In The Year 2050 'Has edge and corner wear to book,pages are clean and tight with tanning. All U.S. orders shipped with tracking number and email confirmation.' All Orders Shipped With Tracking And Delivery Confirmation Numbers.
More Description
For more than half a century, our planet has enjoyed a prolonged period of privilege and stability. Recent decades have seen some of the most extraordinary prosperity in all of human history, and we have come to view this as the norm.
But what if instability returned?
And what can we do to prevent that from happening?
In The Future in Plain Sight, author Eugene Linden lays out the nine factors that are symptomatic of instability in today's world. They include overpopulation, the widening gap between rich and poor, the resurgence of infectious disease, and the effects of a changing global climate. Linden explores these and other destabilizing forces and tells us what we can do to plan and prepare for life in an unsettled and unsettling universe.
From crises in the world's financial markets to the breakdown of natural systems that support human life, The Future in Plain Sight is a powerful look at what lies in store for us in the coming decades.
Price = 5.50 USD