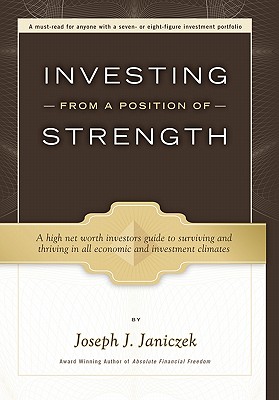 Stock Image
Author Name Janiczek,Joseph J.
Title Investing From A Position Of Strength
Binding Hardcover
Book Condition Used - Good
Jacket Condition Good
Publisher Prosperity Press 20100801
ISBN Number 1930833202 / 9781930833203
Inscription Signed By Author
Seller ID 297163
Janiczek,Joseph J. Investing From A Position Of Strength 'Signed by author with inscription''be strong''. Has minor edge wear to dust jacket,pages are clean and tight. All U.S. orders shipped with tracking number and email confirmation.' All Orders Shipped With Tracking And Delivery Confirmation Numbers.
More Description
The key to surviving and thriving in all economic and investment climates is financial strength. High net worth investors the 4.7 million American households with investable assets above $1 million have the opportunity to gain this advantage and reap the many potential rewards. These potential rewards include great clarity and confidence, more consistent and calculated investment returns, and wealth that is truly secure and no longer threatened by the vagaries of the market. Joseph J. Janiczek, named among the top, best and most exclusive wealth advisors in the nation multiple times, pioneered optimal ways of measuring, building and permanently maintaining financial strength. He believes recent market volatility has exposed huge vulnerabilities and weaknesses in the way most high net worth investors manage their portfolio and identifies the root cause and permanent solution to this widespread problem. As he notes at the start of this book, You do not become financially strong by achieving superior results. You achieve superior results by becoming financially strong. Janiczek s formula for building financial strength is the same practical guidance he has used to help hundreds of high net worth individuals to avoid the mistakes of typical investors and eliminate weaknesses that can sabotage performance and lead to wealth depletion. In this groundbreaking book, he shows you how to implement: A system that liberates you from low-value tasks and distractions, and puts your focus on the Essential 15% of actions that drive success A structure that provides complete clarity and control over all your assets and allows you to see where your intervention will have the most impact Support that is fully aligned with your goals and needs, providing you with insights and advantages that will optimize your results Discipline that is almost entirely delegated or automated, preserving your own self-discipline for the challenges that are most vital and rewarding Janiczek brings these insights to life with observations and anecdotes that reflect his 25 years of experience in wealth management and his passion for helping high net worth investors succeed. Moreover, he understands that success isn t measured in dollars and cents; it s the freedom to pursue your highest purpose and possibilities, a freedom that blossoms when wealth is no longer a problem to solve but a strength to harness and enjoy.
Price = 38.00 USD