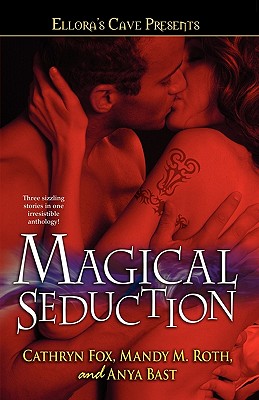 Stock Image
Author Name Fox,Cathryn/Roth,Mandy/Bast,Anya
Title Magical Seduction
Binding Trade Paperback
Book Condition Used - Good
Publisher Pocket 2008/04/15 00:00:00.000
ISBN Number 1416577211 / 9781416577218
Seller ID 298000
Fox,Cathryn/Roth,Mandy/Bast,Anya Magical Seduction Light edge and corner wear. Light creases to cover. Pages still clean and tight. All U.S. orders shipped with tracking number and e-mail confirmation. All Orders Shipped With Tracking And Delivery Confirmation Numbers.
More Description
"Witches, werewolves, things that bump in the night... And three arousing tales of sexual delight."
CATHRYN FOX
" Web of Desire "
Good witch Ally gets naughty when she discovers her long-lost high school sweetheart caught -- literally -- in a web of lust and seduction.
MANDY M. ROTH
" Solo Tu "
When Francy shows up after five years of separation to tell her beloved Dante, a werewolf, that she's engaged to a vampire, he seduces her with a steamy surprise of his own.
ANYA BAST
" Tempted by Two "
Not only did Miranda just learn that she's a half-blood fae, but she's also got two -- two -- deliciously muscular mates. She'd better adjust to all the sexy attention before a vengeful goblin tries to get in on the threesome....
Price = 6.00 USD