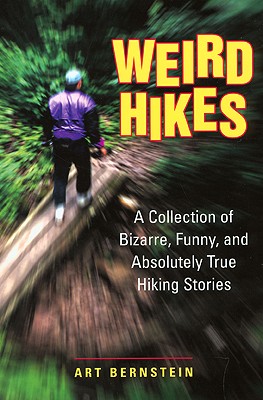 Stock Image
Author Name Bernstein,Art
Title Weird Hikes : A Collection of Bizarre, Funny, and Absolutely True Hiking Stories
Binding Trade Paperback
Book Condition Used - Good
Publisher Globe Pequot Pr 2003/06/01 00:00:00.000
ISBN Number 0762725869 / 9780762725861
Seller ID 298060
Bernstein,Art Weird Hikes: A Collection Of Bizarre,Funny,And Absolutely True Hiking Stories Slight edge and corner wear. Slight cover wear. Pages clean & tight. All U.S. orders shipped with tracking number & e-mail confirmation. All Orders Shipped With Tracking And Delivery Confirmation Numbers.
More Description
Art Bernstein's tales of the strange-but-true events that occur on a hiking trail--or just while trying to find one--cover ground from Juneau, Alaska to the Florida Everglades. These 13 (well, 14--but two happened on the same hike) tales of unexplained phenomena, mythical beasts, and just-plain "Weird Hikes" are sure to entertain avid hikers and the people who love them.
Entertaining, thought-provoking, and funny, this collection of essays is the result of a lifetime of hiking and an inspiration for readers to get out and experience their own "Weird Hikes."

Price = 6.00 USD