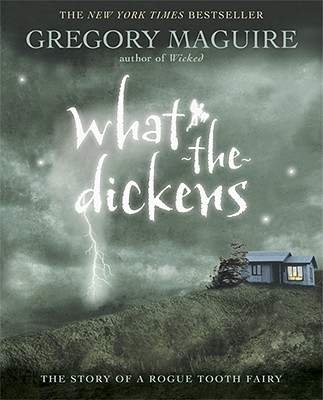 Stock Image
Author Name Maguire,Gregory
Title What-the-Dickens: The Story of a Rogue Tooth Fairy
Binding Trade Paperback
Book Condition Used - Good
Publisher 2008/08/26 00:00:00.000
ISBN Number 0763641472 / 9780763641474
Seller ID 298074
Maguire,Gregory What-The-Dickens : The Story Of A Rogue Tooth Fairy Edge and corner wear. Light creases to cover. Pages still clean and tight. All U.S. orders shipped with tracking number and e-mail confirmation. All Orders Shipped With Tracking And Delivery Confirmation Numbers.
More Description
From the author of the best-selling WICKED, a transporting tale-within-a-tale about the strange world of skibbereen -- aka tooth fairies -- and the universal need to believe.
A terrible storm is raging, and ten-year-old Dinah is huddled by candlelight with her brother, sister, and cousin Gage, who is telling a very unusual tale. It's the story of What-the-Dickens, a newly hatched orphan creature who finds he has an attraction to teeth, a crush on a cat named McCavity, and a penchant for getting into trouble. One day he happens upon a feisty girl skibberee who is working as an Agent of Change -- trading coins for teeth -- and learns that there is a dutiful tribe of skibbereen (call them tooth fairies) to which he hopes to belong. As his tale of discovery unfolds, however, both What-the- Dickens and Dinah come to see that the world is both richer and less sure than they ever imagined.
Price = 5.50 USD