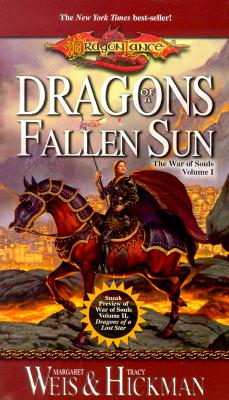 Stock Image
Author Name Weis,Margaret/Hickman,Tracy
Title Dragons of a Fallen Sun (Dragonlance: The War of Souls, Volume I)
Binding Mass Market Paperback
Book Condition Used - Good
Publisher Wizards of the Coast December 2000
ISBN Number 0786918071 / 9780786918072
Seller ID 299612
Weis,Margaret/Hickman,Tracy Dragons of a Fallen Sun Edge and corner wear. Creases to cover. Creases to spine. Tanning to pages. Pages still readable and tight. All U.S. orders shipped with tracking number and e-mail confirmation. All Orders Shipped With Tracking And Delivery Confirmation Numbers.
More Description
The people of Krynn have known war in past ages. Some are still alive who remember the triumph of good at the conclusion of the War of the Lance. Still more remember the devastation of the Chaos War, which ended the Fourth Age of the world.
But now a new war is about to begin, more terrible than any have known. This war is one for the very heart and soul of the world itself.

Price = 4.00 USD