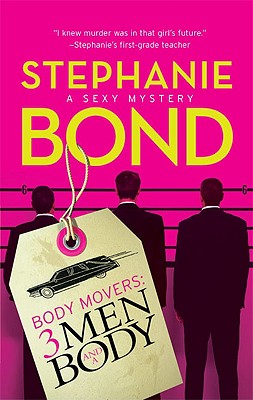 Stock Image
Author Name Bond,Stephanie
Title 3 Men and a Body (Body Movers, Book 3)
Binding Mass Market Paperback
Book Condition Used - Good
Publisher Mira January 2009
ISBN Number 0778326594 / 9780778326595
Seller ID 300260
Bond,Stephanie Body Movers : 3 Men And A Body Edge and corner wear. Creases to cover. Creases to spine. Tanning to pages. Pages still readable and tight. All U.S. orders shipped with tracking number and e-mail confirmation. All Orders Shipped With Tracking And Delivery Confirmation Numbers.
More Description
Carlotta Wren desperately needs a vacation from her life. So when hunky Cooper Craft invites her to ride with him to Florida for some fun in the sun and a VIP body pickup, it seems like the opportunity she's been waiting for.
Until her brother Wesley, eluding an irate loan shark, tags along to play chaperone...
Until they arrive to pick up their VIP body and are greeted by three different men--each one laying claim to the celebutante they've been hired to move...
And until Carlotta realizes that someone is very determined that they don't make it back to Atlanta with their famous cargo intact
Price = 3.50 USD