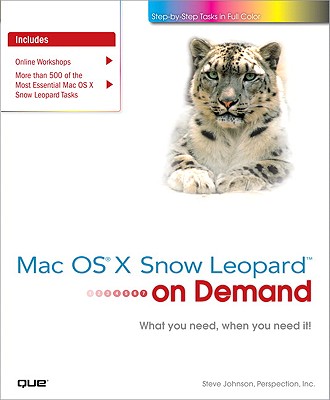 Stock Image
Author Name Steve Johnson, Perspection Inc.
Title Mac OS X Snow Leopard On Demand
Binding Trade Paperback
Book Condition Used - Good
Publisher Que September 2009
ISBN Number 0789739852 / 9780789739858
Seller ID 333096
Light edge and corner wear. Light creases to cover. Pages still readable and tight. All orders shipped with tracking number and e-mail confirmation. All Orders Shipped With Tracking And Delivery Confirmation Numbers.
More Description
Mac OS X Snow Leopard in DepthWhat you need When you need it Need answers quickly? Mac OS X Snow Leopard on Demand provides those answers in a visual step-by-step format. We will show you exactly what to do through lots of full color illustrations and easy-to-follow instructions. Inside the Book- Master the Mac OS X Snow Leopard user interface, file management, and applications- Find everything you need with Spotlight- Find and use keyboard shortcuts to save time- Explore the Internet with Safari and send e-mail with Mail- Manage and play digital music with iTunes and iPod- Chat online instantly with iChat- Manage and share your schedule with iCal- Get a Front Row seat to play DVDs and other media- Set up multiple users and maintain security- Keep your files up to date and backed up with Time Machine- Customize and fine-tune Mac OS X Snow Leopard- Use Microsoft Windows along with Snow LeopardBonus Online ContentRegister your book at queondemand.com to gain access to: - Workshops and related files - Keyboard shortcuts
Price = 5.50 USD