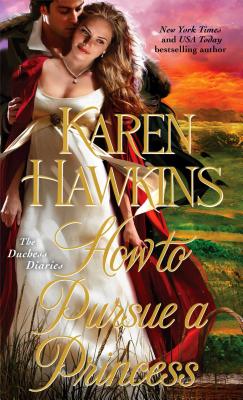 Stock Image
Author Name Hawkins, Karen
Title How to Pursue a Princess (Duchess Diaries)
Binding Mass Market Paperback
Book Condition Used - Good
Publisher Pocket Books May 2013
ISBN Number 1451685203 / 9781451685206
Seller ID 333354
Light edge and corner wear. Light creases to cover. Pages still readable and tight. All orders shipped with tracking number and e-mail confirmation. All Orders Shipped With Tracking And Delivery Confirmation Numbers.
More Description
A PRINCE IN WOLF'S CLOTHING SETS HIS SIGHTS ON AN INDEPENDENT SCOTTISH LASS IN THIS SPARKLING ROMANCE FROM BESTSELLING AUTHOR KAREN HAWKINS.
"
An innocent lost in the woods . . .
"
The sensible solution to her family's dire financial woes is for Lily Balfour to marry the Earl of Huntley, a wealthy widower handpicked by her matchmaking godmother, the Duchess of Roxburghe. Huntley is pleasant and attractive, the perfect candidate in every way. But Lily knows she's in big trouble as soon as passionate, unprincipled Prince Wulfinski sweeps a hot, possessive glance over her.
"
Powerful and sexy, Wulfinski declares he will make her his--no matter the cost.
"
By his own account, Wulf is a pauper, barely able to afford his own cottage. Yet nothing will stop him from pursuing the elusive beauty with every cunning trick he can muster. But which is more important: power and money . . . or love everlasting? To make the right choice, both Wulf and Lily must trust their hearts, not just their heads, to lead them to the happiness they desire.
Price = 4.00 USD