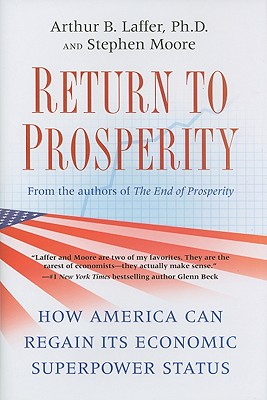 Stock Image
Author Name Arthur B. Laffer, Stephen Moore
Title Return to Prosperity: How America Can Regain Its Economic Superpower Status
Binding Hardcover
Book Condition Used - Good
Publisher Threshold Editions February 2010
ISBN Number 1439159920 / 9781439159927
Seller ID 337817
Minor edge and corner wear. All orders shipped with tracking number and e-mail confirmation. All Orders Shipped With Tracking And Delivery Confirmation Numbers.
More Description
With the economy flat on its back, unemployment at a twenty-five-year high, and the housing default crisis still worsening, people are eager to learn how America can become the land of economic opportunity and prosperity again. While Keynesian economist Paul Krugman offered his analysis of the crisis in the New York Times bestselling book, The Return of Depression Economics and The Crisis of 2008, supply-side economist Arthur B. Laffer, who helped design the policies that pulled America out of the low-growth, high-inflation 1970s and put the economy on the track that led to twenty-five years of prosperity, presents a completely different prescription for restoring America's economic health.
Asserting that the Bush-Obama plan is a failure that has only produced a cascade of trillions of dollars of debt, Dr. Laffer identifies the common sense principles of good economic behavior and lays out the changes that must be made in Fiscal Policy, Monetary Policy, Trade Policy, and Incomes Policy to get the U.S. economy growing again. "The Way Back" presents an urgently needed road map to recovery from one of America's most distinguished and highly experienced economists.
Price = 6.50 USD