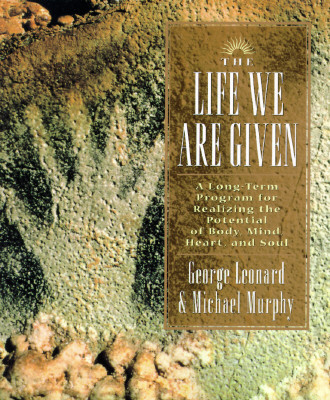 Stock Image
Author Name GEORGE BURR LEONARD, MICHAEL MURPHY
Title Life We Are Given : A Long-Term Program for Realizing the Potential of Body, Mind, Heart, and Soul
Binding Trade Paperback
Book Condition Used - Good
Publisher Putnam Pub Group October 2005
ISBN Number 0874777925 / 9780874777925
Seller ID 339685
Light shelf wear to cover. Cover slightly faded in the center. Previous owner's name on insid cover. All orders shipped with tracking and delivery confirmation numbers. All Orders Shipped With Tracking And Delivery Confirmation Numbers.
More Description
The author of The Future of the Body and the author of Mastery team up to present a proven method for reaching the next stage of human development.
Can people with the time-and energy-consuming concerns of job and family find a way to transform their lives through a regular, long-term program of body/mind/spirit development? Is it possible, through conscious choice, to participate in the next step of human evolution? Two of the most distinguished theorists and teachers of human transformation believe the answer to these questions is yes.
In this inspiring and practical book, George Leonard and Michael Murphy offer a comprehensive program of Integral Transformative Practice (ITP) based on a two-year experimental class that grew out of their lifework. Drawing upon some seventy years of combined experience in the study of human potential, along with the significant findings of their recent experiment, they present step-by-step instructions for joining body, mind, heart, and soul in an evolutionary adventure that has powerful personal and social implications.
Their message will be especially refreshing to those who have become disillusioned by promises of immediate gratification, instant learning, and effortless enlightenment. This book shows the way to profound and lasting transformation through long-term practice. It celebrates the day-by-day joys of the path while opening fresh vistas to human futures.
Price = 5.50 USD