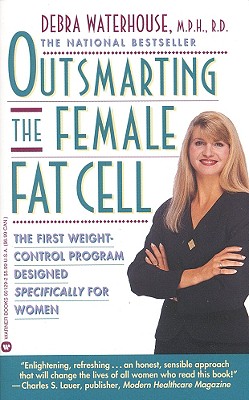 Stock Image
Author Name Waterhouse,Debra
Title Outsmarting the Female Fat Cell: The First Weight-Control Program Designed Specifically for Women
Binding Mass Market Paperback
Book Condition Used - Acceptable
Publisher Warner Books May 1994
ISBN Number 0446601292 / 9780446601290
Seller ID 341759
Waterhouse,Debra Outsmarting The Female Fat Cell: The First Weight-Control Program Designed Specifically For Women Pages clean and unmarked. Light rubbing to edges. Creases to the spine. All Orders Shipped With Tracking And Delivery Confirmation Numbers.
More Description
In this national bestseller, a respected nutritionist offers the first weight-control program specifically designed around the make-up of women's fat cells. Evidence reveals that dieting not only makes these cells multiply, but that it actually makes them even more efficient at storing fat. With a three-month guide to success, readers will learn how to:
-- Burn fat, not store it
-- Eat a wide variety of foods and still lose weight
-- Shrink fat cells forever with special exercise guidelines
-- Turn this "plan" into a satisfying new way of life
-- And more valuable information and strategies
Here is the revolutionary, bestselling weight-control program specifically designed to fight a woman's unique fat cells.
Price = 3.50 USD