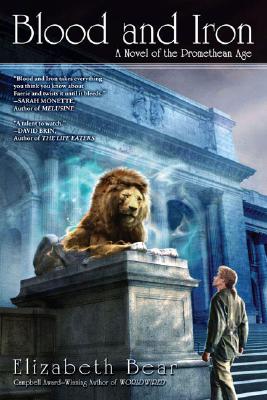 Stock Image
Author Name Elizabeth Bear
Title Blood and Iron: A Novel of the Promethean Age
Binding Trade Paperback
Book Condition Used - Good
Publisher Roc Trade June 2006
ISBN Number 0451460928 / 9780451460929
Seller ID 342677
Light edge and cover wear with unmarked pages All Orders Shipped With Tracking And Delivery Confirmation Numbers.
More Description
She is known as Seeker. Spellbound by the Faerie Queen, she has abducted human children for her mistress's pleasure for what seems like an eternity, unable to free herself from servitude and reclaim her own humanity.
Seeker's latest prey is a Merlin. Named after the legendary wizard of Camelot, Merlins are not simply those who wield magic--they are magic. Now, with the Prometheus Club's agents and rivals from Faerie both vying for the favor of this being of limitless magic to tip the balance of power, Seeker must persuade the Merlin to join her cause--or else risk losing something even more precious and more important to her than the fate of humankind....

Price = 7.00 USD