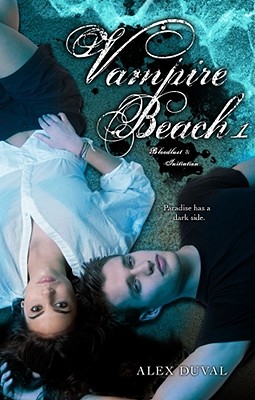 Stock Image
Author Name Alex Duval
Title Vampire Beach 1: Bloodlust; Initiation
Binding Trade Paperback
Book Condition Used - Good
Publisher Simon Pulse July 2010
ISBN Number 1442406933 / 9781442406933
Seller ID 356283
Light edge and cover wear. Unmarked pages. All Orders Shipped With Tracking And Delivery Confirmation Numbers.
More Description
Jason Freeman is the new kid in DeVere Heights, Malibu. Everyone at his posh new high school is surprisingly friendly, and pretty soon Jason's part of the in-crowd. Not to mention that he's also already fallen for the hot-but-unattainable Sienna.
But not all is right in DeVere Heights. When a girl washes up on the beach with strange bite marks on her neck, Jason learns that his peers are not what they seem--vampires are real and Sienna is one of them.
Price = 5.00 USD