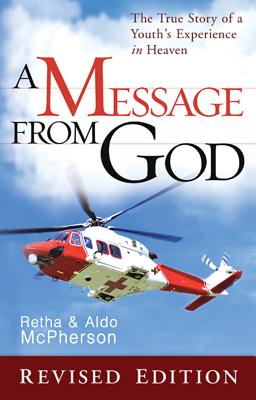 Stock Image
Author Name Retha McPherson, Aldo McPherson
Title A Message From God Revised Edition: The True Story of a Youth's Experienc e in Heaven
Binding Trade Paperback
Book Condition Used - Good
Publisher Destiny Image April 2011
ISBN Number 0768439884 / 9780768439885
Seller ID 367026
Light edge and cover wear. Unmarked pages. All Orders Shipped With Tracking And Delivery Confirmation Numbers.
More Description
When Aldo McPherson was 12-years old, a car accident left him in a coma. While in the coma, he had a supernatural experience where he went to heaven, saw God, the angels, Moses, and Abraham. Aldo came back with one message: "Jesus is Alive "
This book challenges the complacent Is God still your first love? Are you sold-put to Him? Filled with Scripture references, and direct quotes from the Bible, A Message from God will ignite the sparks of the Holy Spirit in your life and bring you closer to God, while Aldo's letters in his own handwriting give a sense of authenticity not often found in miracle stories.
Price = 5.50 USD