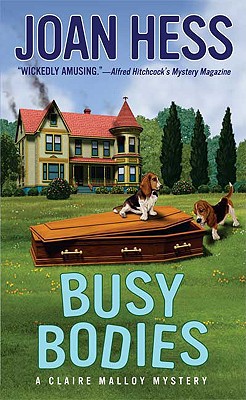 Stock Image
Author Name Joan Hess
Title Busy Bodies (Claire Malloy Mysteries)
Binding Mass Market Paperback
Book Condition Used - Good
Publisher Minotaur Books April 2009
ISBN Number 0312384629 / 9780312384623
Seller ID 373593
Edge and cover wear. Unmarked pages. Creases to the spine. Small tears at spine ends. All Orders Shipped With Tracking And Delivery Confirmation Numbers.
More Description
Since his recent arrival, avant-garde artist Zeno Gorgias has been turning heads and attracting gawkers in the otherwise tame college town of Farberville Arkansas. Zeno's "interactive" art--featuring an undressed woman lounging beside a coffin on his front yard--is neither welcome by the community nor punishable by law. But as local bookseller and amateur sleuth Claire Malloy is about to find out, sometimes there's a dark side to one's freedom of artistic expression...
Strange things keep happening to Zeno and his "oeuvre." First, his estranged wife comes to town, demanding he be committed to a mental institution. Then Zeno's house mysteriously goes up in flames. And if that's not enough, a dead body is found inside of the infamous coffin. Now that Zeno has been arrested for murder, it's up to Claire to figure out what on earth is going on in Farberville...while the "real" killer remains on the loose.
Price = 3.50 USD