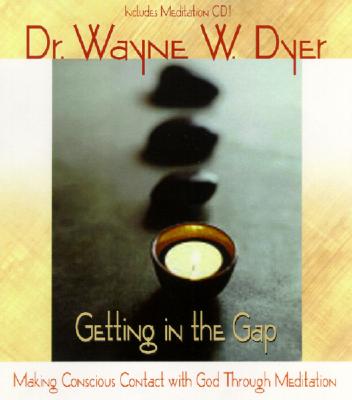 Stock Image
Author Name Dyer,Wayne W.er,Wayne W.
Title Getting in the Gap: Making Conscious Contact with God Through Meditation (Book with CD)
Binding Hardcover
Book Condition Used - Good
Jacket Condition Good
Publisher Hay House December 2002
ISBN Number 140190131X / 9781401901318
Seller ID 388906
Dyer,Wayne W.er,Wayne W. Getting In The Gap: Making Conscious Contact With God Through Meditation CD Included. Light edgewear to dust jacket, binding sound and pages unmarked. All Orders Shipped With Tracking And Delivery Confirmation Numbers.
More Description
The practice of meditation takes us on a fabulous journey into the gap between our thoughts, where all the advantages of a more peaceful, stress-free, healthy, and fatigue-free life are available, but which are simply side benefits. The paramount reason for daily meditation is to get into the gap between our thoughts, and make conscious contact with the creative energy of life itself. Dr. Wayne W. Dyer explains the soul-nourishing meditation technique for making conscious contact with God, which the ancient masters have told us about.
You have the potential to be an instrument of the highest good for all concerned and to be a literal miracle worker in your own life. No person, government, or religion can legitimately claim to do this for you. "In fact," says Dr. Dyer, "I agree with Carl Jung who said, 'One of the main functions of formalized religion is to protect people against a direct experience of God.'" When you master getting into the gap and staying there for prolonged segments of meditation, and experience what you bring back to the material world, you will know your answer to the question: "Why meditate?"
Price = 5.00 USD