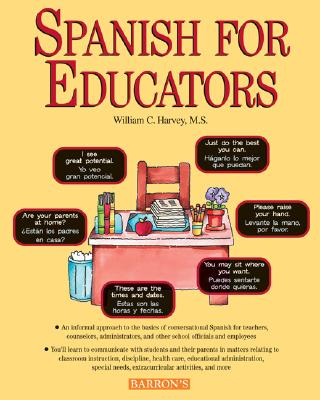 Stock Image
Author Name William C. Harvey M.S.
Title Spanish For Educators with Audio Compact Discs
Binding Spiral/Plastic Comb
Book Condition Used - Good
Edition 2
Publisher Barron's Educational Series December 2006
ISBN Number 0764179535 / 9780764179532
Seller ID 396572
CDs included. Light edge and cover wear. Unmarked pages. All Orders Shipped With Tracking And Delivery Confirmation Numbers.
More Description
This book and CD program will help teachers, counselors, administrators, and other school employees communicate with students who have Spanish as their first language and speak little or no English. The book, expanded and updated in this new edition, starts by introducing the fundamentals of Spanish conversational speech and word order. It then familiarizes the reader with often-used phrases that relate to everyday school situations. Separate chapters emphasize Spanish words and phrases that are most useful for dealing with preschool and elementary-grades students, and then for middle school and high school students. Remaining chapters deal with words and phrases pertaining to guidance counseling, health issues, career guidance, college assistance, and extracurricular activities. A set of three compact discs replaces the older tape cassettes that came with the book's first edition. The CDs offer practice in Spanish dialogue and present bilingual dramatizations of typical encounters between students and educators. For teachers who have no Spanish but need to pick up Spanish communication skills in a hurry, here is an ideal way to start.
Price = 8.50 USD